Building leaders in the accounting Profession
The NESCPA Approach to Leadership Development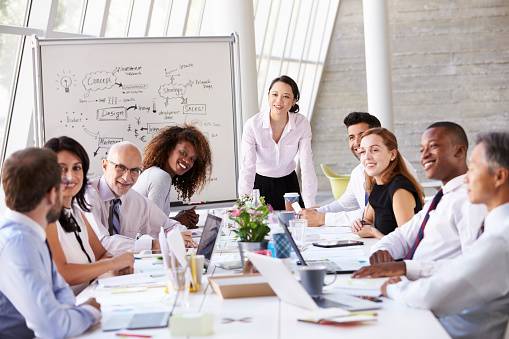 The Nebraska Society of CPAs Leadership Academy is a one-year leadership development program designed to build authentic, emotionally intelligent leaders who understand how to build high-performing teams, manage conflict, and inspire others to deliver results.
---
Who should participate?
Both CPAs and high-potential non-CPA professionals who work under the direction of a CPA are encouraged to participate in the Leadership Academy.
Can I earn CPE credit?
Graduates earn 32 hours of CPE credit, including 4 hours of ethics.
What are the session dates?
Participants in 2020-2021 will meet virtually eight times for one-half day sessions throughout the year. Class introduction and graduation occur each year during the Society's Annual Meeting. Dates for the next class, which will run November 2021-October 2022, will be forthcoming.
Introduction: Oct. 29, 2020, Noon - 1:30 pm
Session 1: Nov. 17, 2020, 8:30 am - Noon
Session 2: Nov. 19, 2020, 1:00 - 4:30 pm
Session 3: Jan. 5, 2021, 8:30 am - Noon
Session 4: Jan. 7, 2021, 1:00 - 4:30 pm
Session 5: May 6, 2021, 8:30 am - Noon
Session 6: May 11, 2021, 1:00 - 4:30 pm
Session 7: Sept. 22, 2021, 8:30 am - Noon
Session 8: Sept. 28, 2021, 1:00 - 4:30 pm
Graduation: Oct. 28, 2021, Noon - 1:30 pm
How many are in each class?
Class size is limited to 25 individuals in order to provide a meaningful experience using an active-learning model.
What is the cost?
Tuition for the one-year program is $2,500. A $500 deposit is due upon enrollment with the remainder due Oct. 15.
Who is the program facilitator?
Our facilitator, Jeremy Wortman of HRD Initiatives LLC, is a highly credible consultant to the accounting profession and is credentialed through academic training and practical corporate experience in delivering highly effective programs.
Read more about Jeremy Wortman.
How is our program different?
The Nebraska Society of CPAs Leadership Academy establishes a valuable network of leaders who are preparing to take on greater responsibilities within their organizations. Participants will emerge with enhanced leadership, communications, and organizational skills.
Our program uses an active-learning case study model. This highly engaging approach lets you directly apply program content to relevant, personalized workplace opportunities and challenges. Our goal is to build long-term sustainable leadership behaviors.
We do not buy off-the-shelf content regurgitated by a trainer. All NESCPA Leadership Academy program content is custom-created and is based on empirically derived evidence from executive leadership and talent management conferences, scholarly/peer-reviewed journals, best practices identified by the Center of Creative Leadership, and other relevant high-profile institutions of leadership research and practice.
We take a longitudinal approach to leadership development as opposed to bootcamp‐style programs that have minimal impact on long-term behavioral leadership improvement. The NESCPA Leadership Academy is about transformational change, and that takes immersion and time.
A talent assessment is used to help participants develop their authentic selves (as one size does NOT fit all).
Participants attend the program as part of a cohort to help facilitate building their network and to foster the application of key learnings to practical organizational challenges.